Ride Designs Ride Forward Cushion
BOOK ASSESSMENT
The Ride Designs Ride Forward Cushion is a comfortable wheelchair cushion that delivers both pressure relief and moderate support to the user. It is available in adult and paediatric sizes.
The supportive contours of the Ride Forward Cushion comfortably surround the pelvis and reduce pressure on the bones. This helps to improve postural control without compromising skin protection, for users who retain some sensation and with mild to moderate postural challenges.
This product requires an assessment – please contact us to book.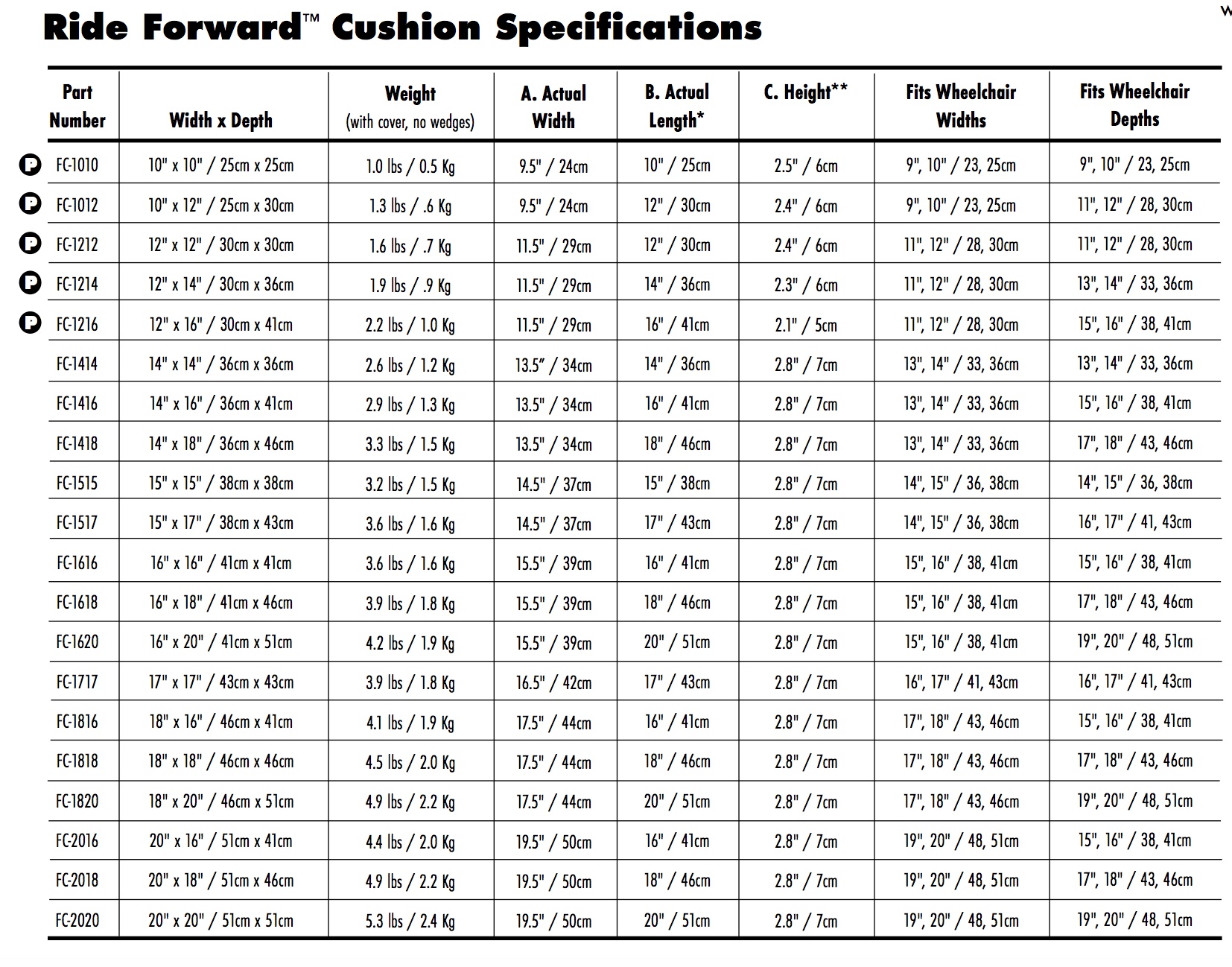 The Ride Forward Cushion also helps to keep the hips in a level position towards the back of the chair, for improved stability. It is most effective when used in conjunction with a Ride Back Support to help with postural support.
This cushion is usually the appropriate choice for users with greater than average postural challenges. Those who have relatively mild postural challenges, and who can independently maintain relatively good posture, may wish to consider the Ride Java Cushion. For expert advice on which would best suit your needs, simply Contact Us.
Benefits of the Ride Designs Ride Forward Cushion include:
Provides protection and comfort: The visco-elastic top layer conforms to the user's body shape. This helps to decrease peak pressures.
Controls position for improved balance: The patented contoured base helps to control and promote balance and posture. The cushion can be further adjusted as needed by using added CAM wedges.
Keeps skin cool and dry: The fabric outer cover does not compress even under significant load, so air can move between the cushion and the user at all times. Meanwhile, the inner cushion has no seams or zips to get in the way of potential liquid spillages, meaning the cushion will not absorb moisture. Any spillage will simply roll off.
Easy to clean: The cushion can easily be disassembled for periodic washing and/or sanitising.
Fits paediatric users: Ride Forward Cushions are available in sizes as small as 10" x 10" (25cm x 25cm), with a contour specially designed for a child's pelvis.
Momentum Healthcare are exclusive distributors in Ireland for the Ride Designs Ride Forward Cushion and all other Ride Designs products.
Use Product Enquiry Tab to get in touch for further details.