As we arrive into the summer months, the safety of special needs children can be a great worry for parents. The sun and warmth leads us to spend much more time outside, which could present more of a danger to those with limited mobility or poor communication skills. However, it is incredibly important that your child leads as much of an active lifestyle as possible; summer can be great fun if you have safety precautions in place and are well prepared for any danger.
There are a number of steps that parents and caregivers can take to learn more about their child's disability and how to minimise risk, which is why we are here to help point you in the right direction! Here are our top tips on keeping your child with special needs safe this summer.
Speak to a medical professional 
The most important thing for any parent of children with special needs is to speak to their child's doctor and ask for safety tips.  You will be able to ask questions about your child's condition and understand the best safety precautions for the summer. A doctor may also be able to provide you with great ideas to keep your child safe that you had not considered before.
Put a plan together for emergency situations
There are many situations in the summer that could lead to your child becoming injured, so try to write down a plan for any issues that could arise. These could be things like water safety, direct sun exposure, heatstroke prevention, car and travel safety, or your child getting lost or wandering off.
During the summer, parents and caregivers should take the normal precautions such as ensuring their child is properly hydrated, shielded from extreme heat with suncream or shade, and provided with life jackets if out on a boat or in the water. However, there will be certain situations that can be more difficult for a special needs child to handle, and these are the ones you will need a plan in place for.
Share summer safety plans with friends, family and neighbours
Once you have learned more about your child's condition and how to handle it, you should share emergency plans with close friends, family and neighbours. This is so they know how to handle an emergency if you aren't around.
For children with communication issues, parents are advised to teach a unique phrase or action to their child to communicate when they are in an unsafe situation. Friends, family and neighbours should be made aware of this phrase.
Teach your child how to react in a dangerous situation and practice regularly
The best way to keep children safe during the summer is to show them what to do in a dangerous situation. This can take longer for children with developmental delays but it is crucial as a safety measure. Practice and test your child regularly on what to do in different circumstances; how can they act to receive medical help, what phrases can they use when they are in danger?
You will know your child best, so try to talk or communicate in a way that they are most likely to understand. It is also advised that a parent or caregiver helps their child understand what to do in a bad situation with other kids, for example, if they are bullied or picked on.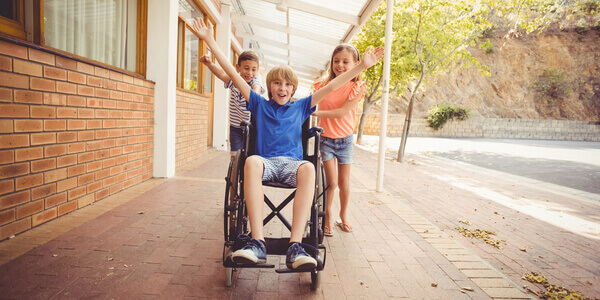 Ensure you can get the appropriate equipment for travel and sports
Whether you are going on a staycation or staying close to home, you will most likely be travelling and engaging in more activity than usual during the summer, which means you need to have the appropriate equipment in place. Is your child okay in a regular booster seat or do they require specialized car seats on longer journeys? An appropriate car seat for your child will prevent injuries and keep them safe while travelling.
For sports, it is important that the carer or coach leading the activity is informed about your child's health condition so that they can provide better support. For some sports, children with limited mobility may require certain equipment, so make sure you let the person in charge of the activity know ahead of time that your child may require assistance and/or equipment.
Place a tracking device on your adventurous child
There are some children with disabilities that are very adventurous and want to explore the world around them. However, wandering off can pose a real danger, especially if your child struggles with communication.
A tracking device in your child's pocket or through a piece of jewellery is a great way to feel more at ease when going out in the summertime. It is also wise for your child to keep a medical card or bracelet on them at all times so that others can be made aware of their health condition.
Sun Safety
If your child needs to use a buggy or a wheelchair, keep them safe and comfortable with a parasol. Dress your child in loose-fitting clothing such as cotton so sweat can evaporate. Also, look at adding a wide-brimmed sun hat to their outfit to help protect their head and necks. Even with a parasol and sitting in a shaded area, your child will not be fully protected from the sun so using suncream is essential. Use a high factor suncream, making sure it has UVA and UVB protection.
Keeping cool and protected are the most important things while in the sun. Many prescription medicines can reduce the tolerance of heat so you may need to take extra care to keep your child cool. Be sure to read your child medication leaflets and speak with your Pharmacist or Doctor if unsure.
Have your child take swimming lessons
A great way to ensure safety while in a pool or the sea during the summer is to have children with disabilities learn to swim, if possible. There are specific lessons for children with disabilities where the instructor has the knowledge and awareness to help children with limited mobility and communication issues to swim.
Find wheelchairs, buggies, and other equipment at Momentum Healthcare
Here at Momentum Healthcare, we provide parents across Ireland with the appropriate equipment for children suffering from mobility issues. We can provide kids with wheelchairs, therapy aids and custom seating to help keep your little one safe. Browse our range of products online at momentumhealthcare.ie or get in touch with us for more information through info@momentumhc.ie.