GTM Mustang Wheelchair
The GTM Mustang is the ideal choice of bespoke custom-made wheelchairs, meeting the expectations and needs of even the most demanding and active user.
As with all GTM wheelchairs, it is expertly designed and engineered to suit the specific requirements of each individual.
PRODUCT ENQUIRY
For more information about this product or to receive a quote, please call us directly on
­

056 771 23 94
or fill in the form below and we'll get back to you shortly.
GTM Mustang features include:
Adjustable centre of gravity and footrest height – ultimate comfort for the user
Wide choice of colours and features – so tailor-made to your tastes
Folding backrest and removable wheels – easy to transport to vehicles
The GTM Mustang is a superb combination of modern technology, high quality materials, and precision engineering, delivering a light and reliable wheelchair that is perfect for active rehabilitation and lifestyle use.
Momentum Healthcare are exclusive distributors in Ireland for the GTM Mustang and all other GTM wheelchairs.
Use Product Enquiry Tab to get in touch for further details.
FRAME: Open, rigid, high-quality alloy
BACKREST: Folding and locked by a 'lockdown' system. Height adjustable 5 cm (optional)
ERGO SEAT: Profiled seat ensures proper seating position and reduces the risk of sores
REAR WHEELS: Size 24" or 26". Angle 0°, 2°, 3°, or 5°
SEAT WIDTH: From 34 to 44 cm
DIMENSIONS: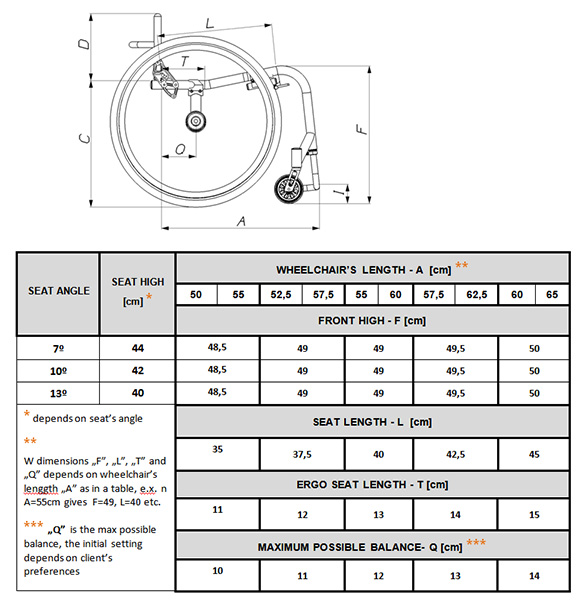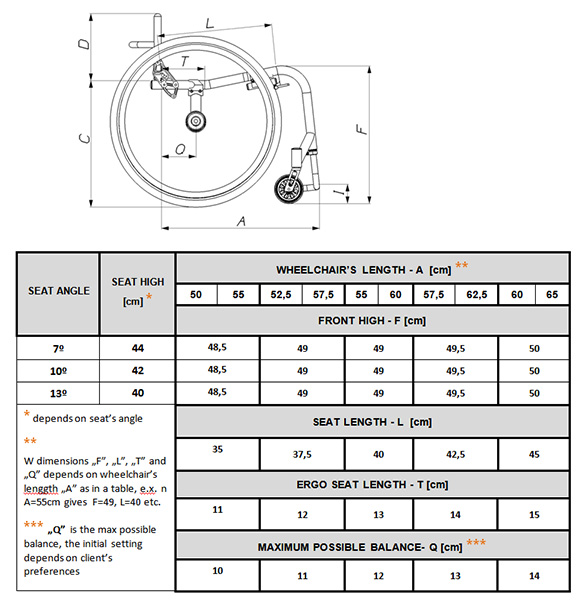 FOOTREST: Aluminium, with height adjustment
REAR WHEELS: Radial or crossed spokes
HANDRIMS: Aluminium
TYRES: Schwalbe RIGHT RUN, grey or blue
BRAKES: Standard "push lock", scissor
AXLES: 12mm or Ø 12.7mm
CASTERS: Plastic (black) with grey tire, or aluminium (silver) with black tire. Size: 4"
SEAT UPHOLSTERY: Adjustable velcro belts; breathable cushion; choice of black or red
BACKREST UPHOLSTERY: Adjustable velcro belts; breathable cover material; choice of black or red
SIDEGUARDS: Removable / folding with backrest. Plastic. Straight
FORKS: Two-sided, lightened, with three holes
FRAME COLOR: Choice of white, yellow, orange, red, cerise, light blue, navy blue, light green, dark green, silver, old silver, graphite, black, black matt, unpolished
SEAT: Rigid, aluminium or carbon plate
BACKREST: Rigid, unfolded / anatomical, ergonomic
FOOTREST: Titanic / plastic or carbon platform
REAR WHEELS: Spinergy, Tensio, sports crossed spokes, off-road / 26" SPINERGY, sports crossed spokes
HANDRIMS: Stainless steel, titanium, covered with rubber or silicone
TIRES: Schwalbe RIGHT RUN blue, red, yellow / Schwalbe Marathon Plus black
AXLES: Ø 12,7mm / with ear handle for tetraplegics, Ø 12mm / 12,7mm
SPOKESGUARDS: Transparent with GTM logo/ custom, with client's picture
CASTERS: Plastic 5" / aluminium 5" / aluminium with sealed bearings 4" and 5"
SEAT UPHOLSTERY: 3 cm and 5 cm extending belt. Cushion: leather / alcantara
BACKREST UPHOLSTERY: Leather / alcantara
FRAME COVERS: For front tubes, calfs belt, backrest handle
PUSH HANDLES: In backrest's handle / in backrest's pipes, rigid or height adjustable / screwed to backrest's pipes / plastic folding
SIDEGUARDS: Sliding pull up, rigid / aluminium, carbon / armrests
FORKS: One sided, lightened with three holes
SUPPORTS: Headrest, 1 or 2 sided support, stabilizing wedge, stabilizing belts
ANTI-TIPPERS
FRAME COLOUR: all RAL colors, polished frame
COLOUR ANODISED PARTS: Backrest folding mechanism plates, casters, plugs, clamps
For more information about this product or to receive a quote, please call us directly on ­056 771 23 94 or fill in the form below and we'll get back to you shortly.
---