There are many different types of cars available for wheelchair users depending on whether they will be using the car as a passenger or driver. If the wheelchair user will be driving the car, it is possible to drive from the wheelchair or get a car that allows an easy transfer into the driver's seat.
Other wheelchair accessible vehicles include cars that have space for a wheelchair in either the front passenger seat or back of the vehicle. There are a number of factors to consider when choosing a wheelchair accessible vehicle dependant on the needs of the wheelchair user. Here are our tips on what to consider when choosing a vehicle.
Choosing the Size of the Vehicle
For a wheelchair user that wants to transfer from the wheelchair into a seat, a larger car can be extremely helpful to allow the user to not only get into a seat but to also store the wheelchair while travelling. If you will be driving a car from the seat, you will need a pressure-relieving cushion to ensure the pressure is spread evenly across your body. This can also stop any pushing or rubbing on your skin while driving. 
There are also cars that come with one less seat, which allow the passenger to stay in their wheelchair while entering the car and while the car is moving. Smaller cars are perfect if you will be driving from your wheelchair as they are more efficient and easier to drive. A large vehicle is a great option for a family, as it will give you or your family more flexibility to pick up other passengers and have enough space, even with a wheelchair inside.
Another thing to consider when choosing the size of your wheelchair accessible vehicle is the size of the equipment and accessories you will need to take in the car with you. Choose a wheelchair accessible vehicle that has enough space for equipment and shopping bags, plus the wheelchair. A larger car is a great option for wheelchair users as it can take away the worry of not having enough space for shopping or luggage.
Getting Your Wheelchair Into an Adapted Vehicle
Wheelchair accessible cars have a range of features to allow wheelchair users to enter and use the car with minimal effort. If you will be transferring from your wheelchair into a seat, there are features such as pre-set positions for the seat which will help make entering the car much easier. Pre-set seat positions will allow you to press a button which will make the seat move into a particular position. This is helpful for driving a car as you can set a position for entering the seat and a position for when you will be driving. There can also be controls to easily adjust the seat height, which is vital to consider if you have a large pressure-relieving cushion.
Another option is to buy wheelchair accessible vehicles that have a wheelchair ramp so that you can easily get inside the car without having to leave your wheelchair. Some of these vehicles will have a lowered suspension so that the wheelchair ramp is less elevated. It is possible to purchase either folding or electric wheelchair ramps for your vehicle. It is also possible to purchase a lift, which is electronic and perfect for larger family cars but will cost more money than a ramp. Choose a wheelchair accessible vehicle with either a ramp or lift if you do not want to transfer to a seat. 
Lowered floors are another possibility to provide the wheelchair user with enough headroom and space to sit comfortably in the wheelchair. Lowered floors are available in both drives from wheelchair cars and wheelchair passenger cars. Buying an adapted vehicle with these features is an ideal solution for wheelchair users that find it difficult to get out of the wheelchair.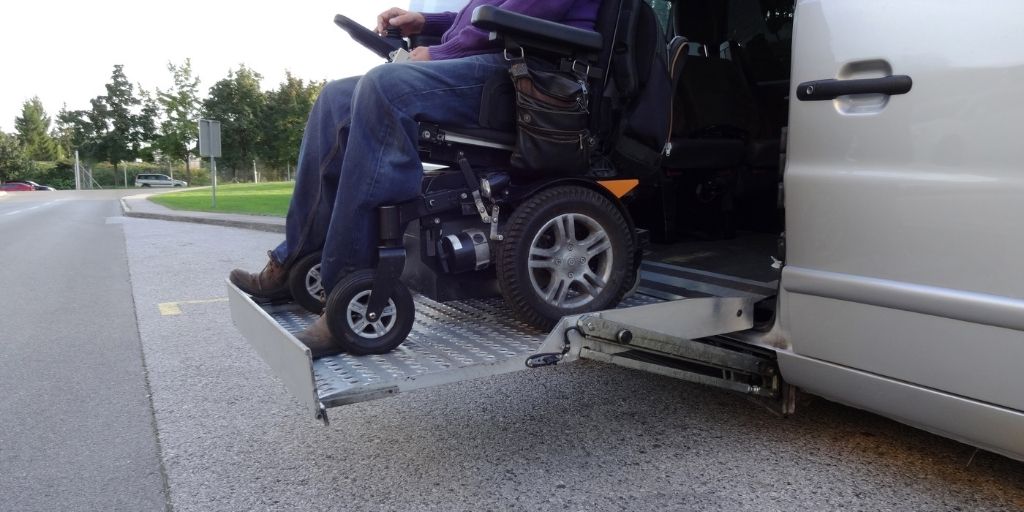 Inside the Wheelchair Accessible Vehicle
Once you have transferred from your wheelchair to a seat, make sure your wheelchair and its parts are secure by strapping them down with a seat belt. Make sure that your seat is at the correct height while using your wheelchair cushion.
If you will be sitting in your wheelchair while inside the car, there may be straps available to ensure the wheelchair is firmly in place for when the drive begins. Although it is possible to choose wheelchair accessible vehicles where the wheelchair can be strapped down, the wheelchair user will experience more movement as the car is accelerating. This doesn't take too long to get used to. The eyeline for wheelchair users is also different than it would be in a car seat. 
It is possible to adapt almost any car to your requirements and makes going out a much easier task. Wheelchair cars vary in size and price but you are sure to find the perfect accessible car for you and your wheelchair, no matter what you use.