The best way to help reduce stress and unnecessary delays when travelling abroad is to be prepared and plan ahead.
If you are a wheelchair user or going away with someone who is, there will be several additional plans that will need to be in place before you begin your trip.
Being organised is especially important if you're planning on using an aeroplane.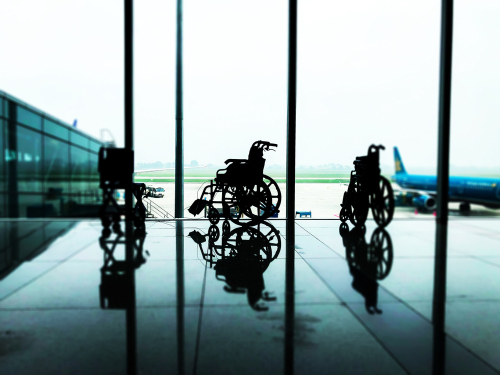 Arranging Wheelchair Assistance At The Airport
The basic requirement for a wheelchair user to travel by air is to be able to sit upright in the airline seat. Most airlines will have additional support processes already in place when it comes to those with reduced mobility so the best place to start would be to get in touch with your airline, or travel/booking agent. 
Let them know what level of assistance is required upon arrival at the airport, right up to departing the plane. If you have a layover and time at another airport in-between, then highlight this to ensure support is available up to your final destination. Airlines will then be able to instruct your departure and arrival airports with any additional needs, such as a carry on service which is designed for anyone who can't make their own way to their seat.
It's recommended to give any airline as much notice as possible, thus allowing them sufficient time to organise suitable staff and prepare for any additional arrangements you may require. Some airlines may ask for a minimum of 48 hours' notice of your travel plans.
An essential reason to make sure you inform the airline that you're travelling with a power wheelchair is to allow them to take this into account when calculating the planes total weight limit. Wheelchair users are allowed up to two items of mobility equipment free of charge, and they will not be counted towards your baggage allowance.
If time allows, consider doing some research into the best surrounding airports and airlines with the most accommodating policies for those travelling with a power wheelchair. This information may influence your booking as a priority over ticket prices or travel times, for example.
Getting On A Plane As A Wheelchair User
The best thing to do when travelling would be to share the wheelchair owner's manual with the airline; this could be printed or downloaded to a tablet to be on the safe side. If you have misplaced your manual, then contact the powerchair provider for a copy. 
Some chairs may be different from others so to prevent damage to the power wheelchair, consider attaching clear instructions on how best to fold or disassemble it, so the airline staff know what to do and have something to refer back to if needed. Arriving at the airport as early as possible (within reason) will allow for plenty of time to stay organised and enable everything to run as smoothly as possible.
Powerchair Batteries
Powerchair batteries are often the most significant stress point for users. Most powerchairs are now available with gel batteries that can be taken out of the powerchair, thus reducing its weight for transport. Individual pieces could be removed for easier transportation, such as the removal of batteries, and this will be detailed within the owner's manual. 
Keep Your Wheelchair Safe
Powerchairs will need to be loaded onto the plane as luggage, and this means the user will be provided with a manual chair. To reduce any risk of confusion, note down the serial number of your chair before travelling. Remember to remove any items that you may need, such as medication from the power wheelchair before it is loaded. Consider using a backpack that can be hung from the back of the manual chair to take the strain off your travel companion.
Boarding The Plane
If there are steps involved when boarding the plane, some airlines will have a lift to help transport wheelchair users. Airlines may allow you to board and disembark first or last to avoid queues.
Some planes will feature liftable chair arms on the aisle seats so, where possible, request to be seated there to make transferring in and out of the wheelchair more straightforward. The airline may also supply you with a smaller, folding wheelchair to allow for better navigation through the narrow aisles.
Airlines are also likely to seat wheelchair users or those with reduced mobility closer to the onboard toilets. If you would like to ensure this happens, request it via your travel/booking agent, or directly with your airline when you come to book your flights. Remember, an airline chair may not be as comfortable as one on a power wheelchair, so consider bringing an additional cushion or blanket to sit on for long flights.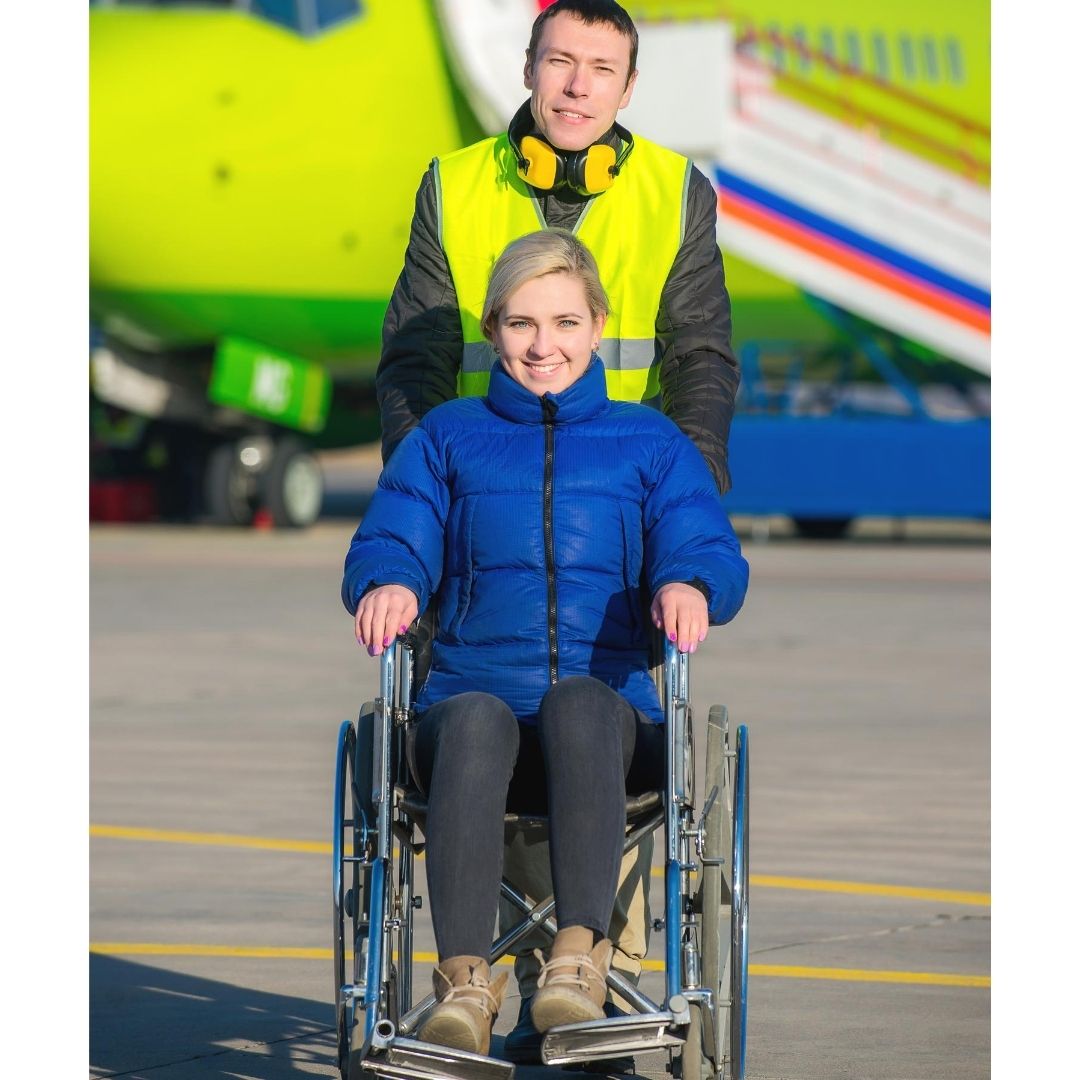 Arrival
Once you have arrived at your destination, you may wish to arrange transport to your accommodation, and so you will need to allow time to collect your power wheelchair from baggage and return the manual chair.
Finally, most of the time air travel is for pleasure, so try to relax and enjoy your trip.