Electric Wheelchairs
Here at Momentum, we have a variety of power wheelchairs available that are designed with safety and ease in mind.
Powered wheelchairs, also known as electric wheelchairs, are operated by batteries and a joy stick, so they do not have to be propelled manually by arm.
Power wheelchairs have become incredibly popular since the mid-1950s as they can make manoeuvrability much easier for the wheelchair user. This is because a manual wheelchair requires a great deal of strength from the user in order to accelerate and for turning, whereas a power wheelchair has a joystick for control and acceleration.
The design of an electric wheelchair also offers optimum comfort so that users can travel for miles on a wide range of good terrain. As long as the batteries in a power wheelchair have maximum charge, the mobility of the user can increase substantially compared to a manual wheelchair.
Our powerchairs will give wheelchair users a comfortable experience so that they can go wherever they like, whenever they like.
Here are just some of our wonderful powerchair products, available for you to purchase for improved mobility.
Meyra iChair MC Basic Wheelchair
Our Meyra iChair MC Basic is an electric wheelchair with an integrated design to make life easy when storing and turning in tight spaces.
Ideal for both outdoor and indoor use, the Meyra iChair MC Basic has a comfortable seat and folding backrest so that the user is supported wherever they go.
Additionally, the power chair has anti-tilt wheels and rugged puncture-resistant tyres so it is one of the top choices for mobility on any outdoor terrain.
The new technology offered by power wheelchairs allows the Meyra iChair MC Basic five different speed settings. This makes the powered wheelchair ideal for long-term and all-day use.
Key information for the Meyra iChair MC Basic includes:
Simple maintenance and easy servicing
Folding backrest
Front seat height: 440-510
Backrest height: 500
Five-speed settings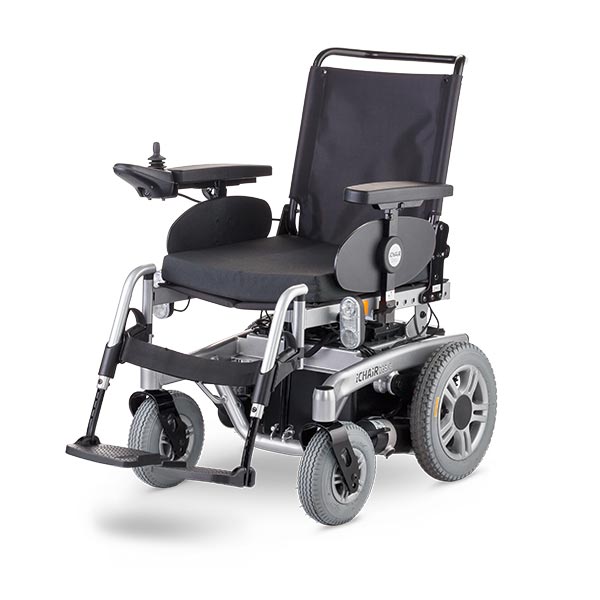 The Orbit powered wheelchair is another versatile product available at Momentum Healthcare that runs from battery charge and can be used indoors and outdoors.
The Orbit powerchair can drive for miles if the batteries have a full charge and have rigidly attached castor wheels which allow precise manoeuvring, making it ideal for the needs of any user.
The Orbit's system includes the ability to turn on its own axis, which helps with mobility in confined spaces. For everyday living, the Orbit makes the perfect powered wheelchair, with outstanding performance including maximum agility and high stability for precise movement and control.
The Orbit power wheelchair is also compact thanks to the minimum overall width and seat height and has an extremely comfortable seat and overall design.
Features of the Orbit power wheelchair include:
Spring-loaded drive unit standard
Rigidly attached castor wheels
Compact dimensions
Flexibility due to single or double support castor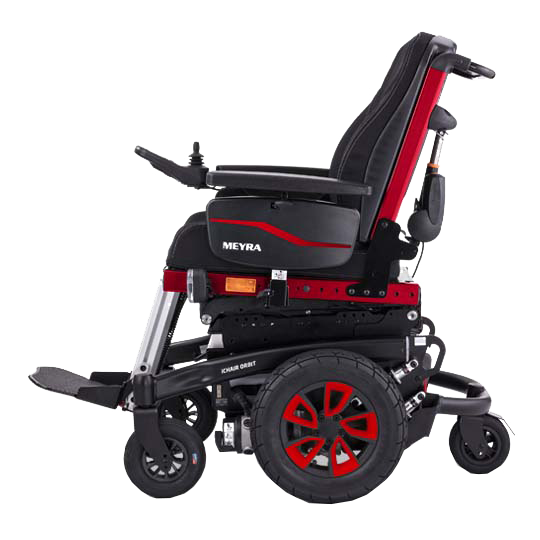 The Meyra iChair MC3 powered wheelchair is a large and powerful wheelchair, with innovative electronics for an excellent performance.
The drive wheelchair allows users to increased mobility every day, no matter where they travel.
Wheelchairs like the Meyra iChair MC3 have a long life due to a service-friendly pull-out battery box, which makes maintenance easy, boosting the standard of safety, control and performance. The power drive chair is also more than suitable for indoor and outdoor use.
Increased control also comes with the Meyra iChair MC3 wheel drive; the chair has integrated anti-tilt wheels making turning in tight spaces easy and manoeuvrability effortless.
The design of the Meyra iChair MC3 wheelchairs are sophisticated with a fresh new seating and frame design, and long life LED light. The power wheelchair also has a four-wheel suspension for extra seat comfort during travel.
Many Momentum customers choose this wheelchair due to its powerful system, innovative technology, and top safety standard.
Key information for the Meyra iChair MC3 includes:
Service-friendly simple battery maintenance due to pull-out battery box
Innovative electronics and powerful batteries
Long-life LED light
Integrated anti-tilt wheels
Four-wheel suspension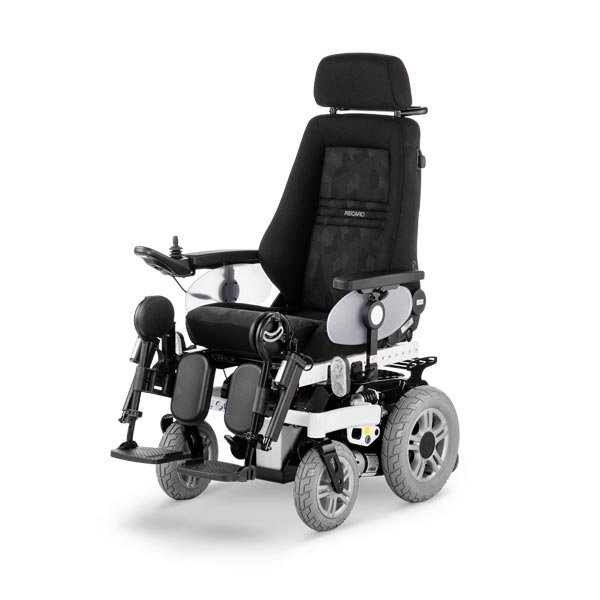 Meyra Optimus 2 Powered Wheelchairs
The Meyra Optimus 2 is a power wheelchair with exceptional features that make mobility outdoors a seamless experience.
No matter what terrain these power wheelchairs face, they have optimum control, speed and performance. The range and charge of the Meyra Optimus 2 powerchairs are designed for those that enjoy a large amount of outdoor living and will tend to travel miles in their powered chair.
The rugged design of the power chair makes manoeuvrability on unpaved roads, paths, steep inclines and kerbstones easy and accessible. Wheelchairs like the Meyra Optimus 2 are powered drives perfect for sustained outdoor use and have top features that make the powerchair an outstanding product.
For turning, this powered chair has an easy gliding joystick and keypad, fulfilling the needs of any user that has an issue with mobility. Power wheelchairs such as the Meyra Optimus 2 also come with an engineered four-wheel suspension for increased seat comfort during an outdoor drive.
Key information for the Meyra Optimus 2 includes:
Precision steel frame
Wide variety of special operator controls
Easy gliding joystick and keypad
Four-wheel suspension for maximum seating comfort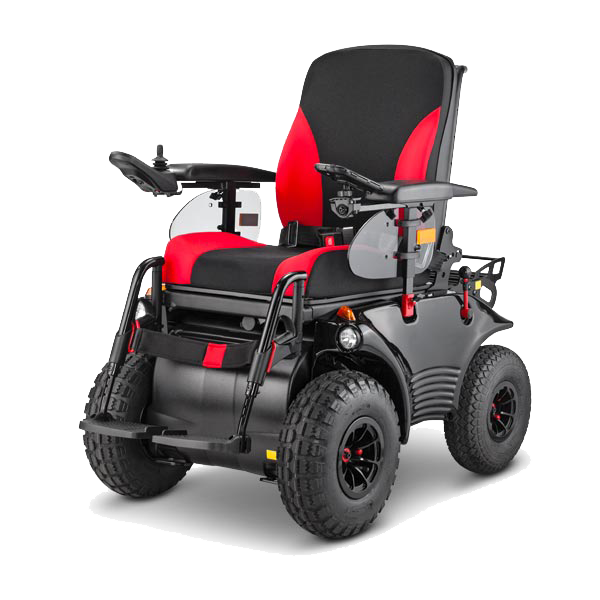 Features
The battery performance on a powered drive depends on the model and make of the powerchair. Batteries for an electric wheel drive can get you from 15 to 40 miles, so you should always look at battery performance when choosing from power wheelchairs to ensure maximum range.
It is recommended that you charge electric wheelchairs every day after use if you want the battery to last for a long time.
Batteries that are looked after properly and charged daily will have increased overall performance and a better standard of drive. Batteries with good health will improve user mobility.
A rear-wheel-drive features the drive wheels at the back of the wheelchair.
This means that the power for rear-drive wheelchairs comes from the back.  A rear-wheel-drive is ideal for indoor use as it features better handling and acceleration on smooth surfaces.  It is also more intuitive for existing wheelchair users.
A rear-wheel-drive wheelchair is also better for heavier loads as the weight is on the seating at the rear of the wheelchair, making the powerchair much safer and easier to use. There are also mid-wheel and front-wheel options available which offer a variety of benefits.
Mid wheel wheelchairs have caster wheels on the base to stabilise the powerchair while front-wheel drives are extremely popular for comfort on rugged terrain.
Seating on a powered wheelchair should offer a comfortable experience, no matter whether travel is indoors or outdoors.
Many power wheelchairs offer neck, back and leg support through the seating. Opting for wheelchairs with a larger back height can ensure your back is always supported.
Some powerchairs also have folding backrests to make transporting the electric wheelchair easy. Choose a product and a seat to suits your needs; the seating should feel good for use at any time.
Powered wheelchairs are heavier in weight than manual wheelchairs, but offer a range of options that can be tailored specifically to the user; depending on factors such as outdoor or indoor use, style of seat, rear-wheel, mid-wheel or front-wheel drive, performance and the wheelchair's system.
If you are going to be transporting your power chair regularly you may want to choose a product that is lighter in weight, whereas if you want a chair that has a great performance and can get across rugged terrain easily then your powerchair will be heavier in weight.
Here at Momentum healthcare, the majority of our wheelchairs are perfect for indoor and outdoor mobility.
Wheelchairs with a longer range and better battery may be better for manoeuvrability outdoors, but if you are looking for wheelchairs for indoor use then we have a wide range of options.
Compact wheelchairs are better for mobility indoors as they are easier to manoeuvre in tight spaces. Folding wheelchairs are also ideal for indoor use as they can be stored away.
We have a variety of products so you are sure to find something for every situation.
There are so many different options when looking for powered wheelchairs; products differ with seating, weight, ease of control and technology so you can tailor your chair for the perfect experience. Search our powered products online to get your ideal powered drive, or talk to your local product specialist. 
Compact wheelchairs are fantastic for indoor use and add an element of ease when it comes to transporting and moving around.
Compact wheelchairs usually have folding components, such as the seat or backrest to make storing effortless. These wheelchairs give any user increased mobility to make everyday life easier.
Here at Momentum Healthcare, you can search for a range of products online; there is something for everyone and any type of lifestyle.
We strive for a great standard of service and will always be happy to help so do not hesitate to email us at info@momentumhc.ie or give our friendly team a call on (056) 771 2394.
Industry & Company News
Keep up to date with everything going on in the industry and the latest updates from the Momentum team.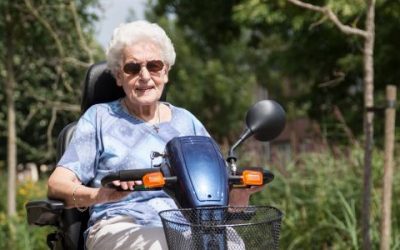 As individuals age, mobility issues can become a significant barrier to maintaining an independent and active lifestyle. The ability to move freely and engage in daily tasks can diminish, affecting a person's overall quality of life. Fortunately, advancements in...