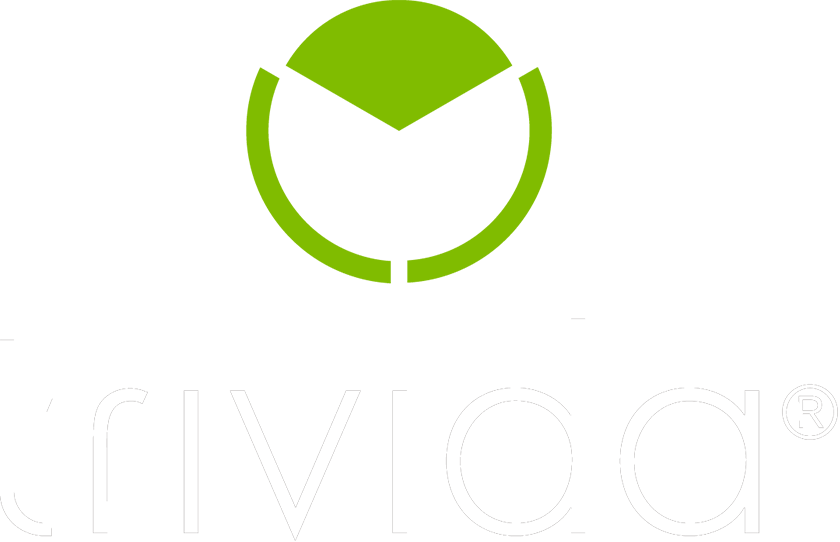 Better quality of life with the Trivida Wheel.
Trivida® facilitates the transfer to and from the wheelchair. But what does that mean in concrete terms for people in wheelchairs and their helpers?
Relief: trivida® saves energy – both for wheelchair users and for caring relatives. The loads in the shoulder, neck and back area decrease; Tensions, pain and injuries are less common.
Independence: With trivida® , people in wheelchairs can organise their everyday life much more independently. They are less dependent on help and can move around more spontaneously and independently.
Dignity: Repositioning in the bathroom, often affects privacy. If you need help with the transfer, you automatically come into close physical contact. That can be uncomfortable. Many wheelchair users tell us that they experience more dignity with trivida®.
Safety: Moving from the wheelchair and back is not only tedious and exhausting, but also involves a high risk of falling and injury. The divisible wheelchair wheel gives you more security.
Surely you use many care aids to overcome limitations in your life and to make your everyday life more barrier-free.
The trivida® wheel is only a small component of your mobility, but it can have a significant effect on your quality of life and your health.
This price is based on standard configuration only. This item may have multiple additional extras that are not included in the published price. Please see your local authorised dealer for a detailed quote.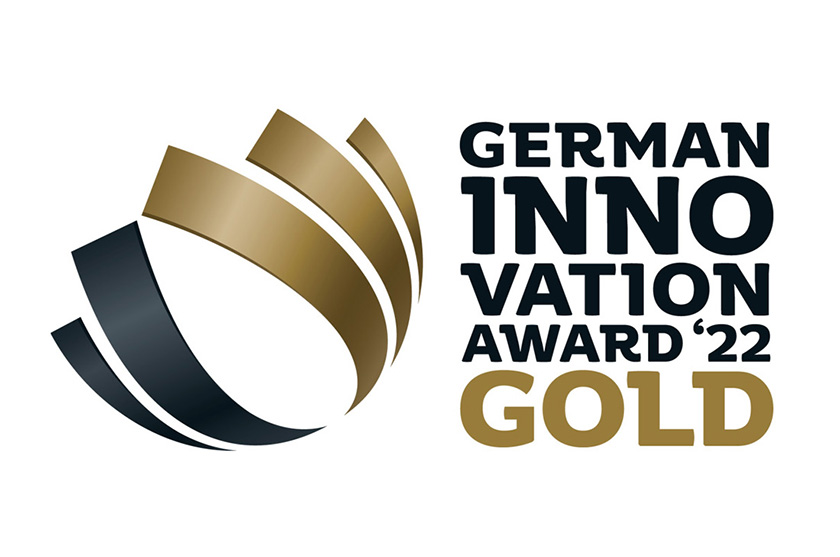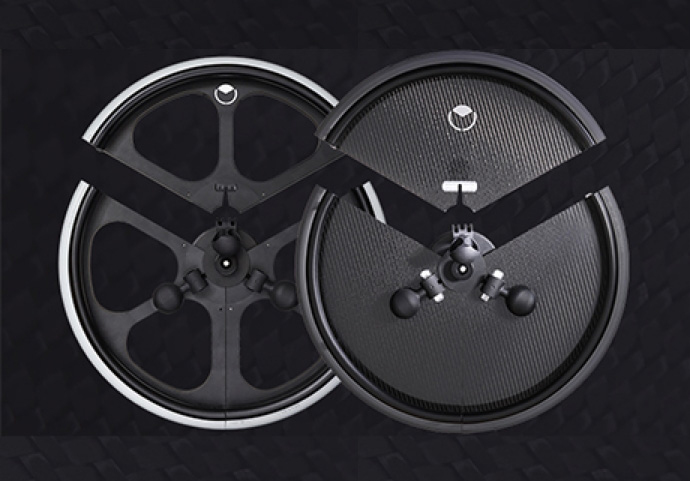 The divisible trivida® wheel in carbon or plastic
For whom is the divisible wheelchair bike particularly suitable?
trivida® can be mounted on almost any standard wheelchair with side drive wheels. If you drive such a wheelchair or accompany or care for a person who is dependent on a hand-operated wheelchair, the divisible wheelchair wheel is a good recommendation.
trivida® is particularly interesting when the transfer is experienced as an exhausting procedure and may even trigger worries and fears. As soon as the transfer is tiring for you, it makes sense to  get to know trivida® . A divisible wheelchair bike is also a great help if you are only temporarily or completely new to a wheelchair.
You only need a little strength and coordination in your hands to be able to use trivida®. We have used a lot of technical know-how in the design and development so that the upper wheel segment can be unlocked with little effort and just as easily reinserted.
Of course, trivida® also offers noticeable relief for professional nursing staff, who often suffer from back or joint problems and disc diseases due to the great physical exertion. The same applies to private carers. Do you regularly help a person in a wheelchair to transfer from or to the wheelchair? Then the divisible wheelchair bike is definitely a suitable aid for you, regardless of the strength, weight and vitality of the person in the wheelchair.
We are happy about a lot of positive feedback, which confirms that trivida® is a great help and support for caring relatives.
Comparison of transfer: transfer with and without trivida®
Until now, the transfer from and to the wheelchair involved a great deal of effort and risk of injury – both for the person in the wheelchair and for any helpers.
Realize without trivida®
The wheelchair bike is usually driven at an angle of 45 degrees to the destination, for example a bed.
The footrests are folded aside and the legs are placed in the correct, stable position.
The weight is shifted towards the goal. You lean on the target with one hand and on the wheelchair with the other. Then you push yourself out of the wheelchair towards the target area with a twisting movement.
The alternative is to transfer together with a person whose shoulders or hips provide support.
The person assisting shifts their weight backwards and moves the person out of the wheelchair to a standing position. Under certain circumstances, helpers apply pressure impulses to the knees and pelvis.
This is the phase when most falls occur. Affected people therefore often tense up even before mobilization.
If the wheelchair user sits on the bed, their legs are pulled in.
We are happy about a lot of positive feedback, which confirms that trivida® is a great help and support for caring relatives.
With the help of the divisible wheelchair wheel, moving is safer and less stressful:
The wheelchair is driven parallel and as close as possible to the destination and locked.
The overhead wheel segment is unlocked and removed on the bedside using an ergonomic quick-release lever. This is also possible for people with motor disabilities.
The usual barrier caused by the wheelchair wheel is removed and a lateral transfer is possible with greatly reduced effort. You can slide onto the bed barrier-free without the risk of falling during the lifting movement.
We cannot promise that the transfer will be child's play, that you will no longer need any support or that you as a caregiver will no longer be needed – but we can promise that the transfer will be easier, safer and becomes less exhausting.
Can I use a sliding board with trivida®?
Yes! And it's actually a lot easier than was previously possible with conventional wheelchair wheels. The use of a sliding board is only useful if both seats have approximately the same seat height or one seat height can be adjusted (e.g. from the care bed to the wheelchair). But usually, even with the same seat height, part of the wheelchair wheel gets in the way and interferes with the slide board – it cannot be laid flat and wobbles.
This is different with the divisible wheelchair wheel: the free space that is created when you remove the top third of the trivida wheelchair wheel means that the slide board closes the gap between the wheelchair and the desired seat in a straight, stable and safe manner and creates a direct transition.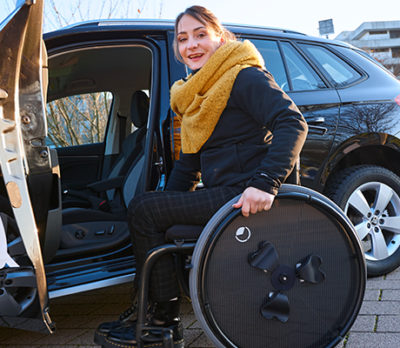 With the divisible wheelchair wheel, you no longer have to climb a barrier up the sliding board or slide around the wheelchair wheel. Simply position the slide board comfortably under your buttocks and slide safely and stably out of the wheelchair piece by piece over the slide board to the target position or back.  
More safety for people in wheelchairs
Wheelchairs are available today in several hundred designs and variations. Health insurance companies divide the individual wheelchair models according to function and area of ​​use. Manufacturers list them by drive type, frame, etc. However, what should come first when choosing a wheelchair and makes up a large part of the life of wheelchair users is the aspect of safety.
The risk of injury is particularly high in energy-sapping transfer situations. The buttocks get caught on the wheelchair wheel when you push up and over, or the already sensitive skin tissue on the buttocks and thighs is manipulated and irritated by shearing forces. If these injuries are repeated, a decubitus can develop in the worst case. If redness can no longer be suppressed, it takes time for the skin to recover. 
In some cases, bed rest with regular repositioning is necessary and sitting in a wheelchair is only possible to a very limited extent. This condition is very stressful, both physically and mentally, and should be prevented as a matter of urgency. For you, this means: Find out how and with what you feel safe. What (mobile) needs do you have? In many cases it is not even necessary Invest in a new wheelchair. Sometimes a divisible wheelchair bike is enough to improve independence, mobility and safety.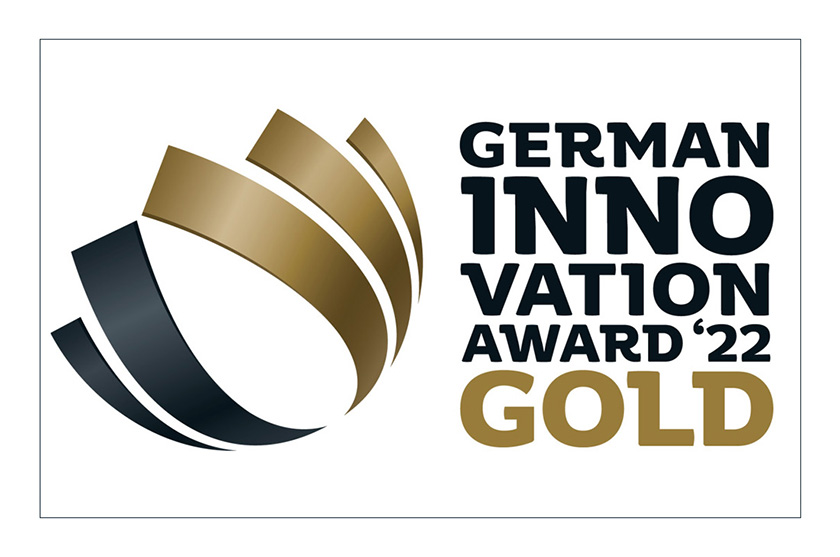 Arrange a Trivida® demonstration today.
Just want a brochure? Select the brochure option below and we'll email you one instead. Read more about our data processing guidelines on our privacy policy.