My name is Bart van der Velde and I work as a Seating and Mobility specialist at Momentum Healthcare. My background is in Human Kinetic Engineering, which is a 4-year degree, given at the Hague University in the Netherlands. It was set up to train people in both medical expertise and engineering skills. Subjects during the course include anatomy, physiology, motion analyses, mechanical & software engineering and product design. This extensive background allows me to speak with both physicians and engineers thus bridging the gap between the two professions which is a vital part working in assistive technology and (complex) rehab equipment.
My professional career started in 2004 when I joined a small wheelchair dealership in the city of Rotterdam. Getting to know all the products and working out why they are designed the way they are was quite challenging, but my Human Kinetic Engineer background proved its worth.
After working for 7 years as an all-round wheelchair and seating assessor I felt it was time to move on, so I made the move to Specialist Moulded Seating with a company called Ortho-Innovatief. When I first began working with moulded seats we didn't have the technology that is at our disposal today, so sometimes we had to make the seating system by manually carving it out of a block of foam. The developments in 3D scanning and CAD/ CAM software has made work a lot easier and more accurate, although it still is handy to be able to make and modify seats on site when needed.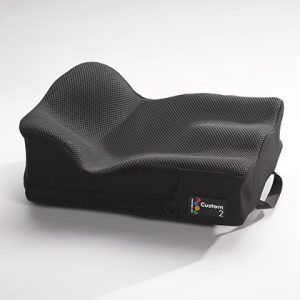 One of the companies that utilises the full potential of this digital revolution is Ride Designs. Their extensive research and expertise in orthotics have led to a unique process for doing the 'shape capturing' and for digital enhancing the crucial characteristics for specialist seating.
Ride Designs also offer 2 or 3-day specialist seating courses that train people to be able to assess Ride Custom products. As I would be the first person to do Ride Custom in Europe, I was sent over to Ride Designs to do a more extensive 2-week training course. During this extensive training with Ride Designs I really felt the high skill level within the company.
No matter who I talked to, from the upholsters to the general director, everybody knew exactly what I was talking about and they utilised their individual specialities to work out the best options without compromising the unique features of the Ride Design (Custom) products.
The clinical aspects of the Ride Designs range combined with the high quality of manufacturing and the constant efforts made to further enhance both will surely raise specialist seating to an even higher level.
If you would like to hear more about my experiences with Ride Designs or about the other high-end, affordable products from Momentum Healthcare, please feel free to contact me via: 087-229 4312 or send an email to: bart@momentumhc.ie. I am happy to come over and assist with postural assessments, and if needed, do a shape capture with the unique Ride Designs shape capturing system.