Lifestand LSE Wheelchair
Lifestand LSE is the original Lifestand LS from Permobil with added 'E' for electricity, delivering extra help in allowing you to stand.
The electrical power can be delivered at time of purchase or retrofitted to an existing Lifestand LS, and you can stop and rest in any position between sitting and standing to allow yourself to ease spasms and muscular tightness out gently.
Scroll down for more details.
Key features of Lifestand LSE wheelchair include:
Battery life cycle of 100 standing cycles between each charge
Arm rests in choice of two lengths, adjustable in depth and height, and delivering four functions: swing-away (transfer), armrest (seated position), security chest support (standing position), relaxed posture (standing position)
Backrest angle adjustable, with three possible indexations, and three backrest heights adjustable
The Lifestand LSE delivers the best of both worlds of manual and motorised standing wheelchairs and is available in a variety of dimensions to suit your own individual needs.
Momentum Healthcare are exclusive distributors in Ireland for the Lifestand LSE and all other Lifestand wheelchairs.
Use Product Enquiry Tab to get in touch for further details.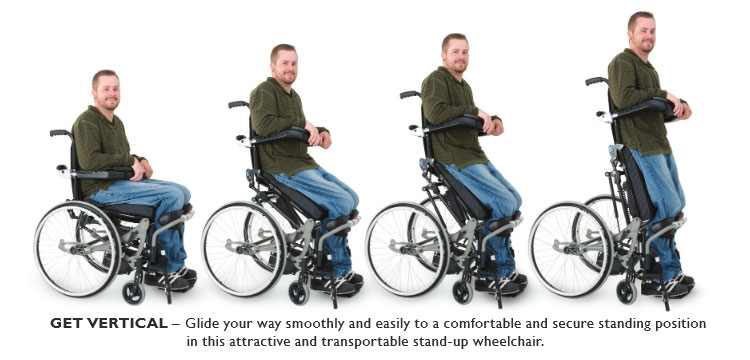 TOTAL WIDTH: 650 – 770 mm (3° camber) / 590 – 710 mm (0° camber)
TOTAL LENGTH (SEATED): 890 – 1070 mm
TOTAL LENGTH (STANDING): 940 – 1120 mm
SEAT HEIGHT: 510 mm
SEAT DEPTH: 410 – 550 mm
SEAT WIDTH: 360 / 400 / 440 / 480 mm
BACKREST HEIGHT: 320 / 400 / 520 mm
BACKREST ANGLE: Fully adjustable
TOTAL WEIGHT: 32 kg
MAXIMUM USER WEIGHT: 120 kg
For more information about this product or to receive a quote, please call us directly on ­056 771 23 94 or fill in the form below and we'll get back to you shortly.
---