Lifestand LSA Wheelchair
The manual Lifestand LSA from Permobil is designed with busy and sporty people in mind – as indicated by how the 'A' stands for active.
It is the lightest standing wheelchair available, and is delivered with seat and backrest pre-adjusted to the user's weight and height, to ensure a perfect fit. A streamlined and harmonious design emphasises functionality and lightness, and it is easily disassembled for transport in vehicles.
Scroll down for more details.
Lifestand LSA wheelchair key features include:
Provides better physical balance and psychological well-being
Reduces muscle contracture and spasticity
Allows better blood circulation
To stand up, the Lifestand LSA user simply grasps the handles and uses a similar movement to what they would use on the wheel rim for propulsion. This means that muscles which are already strong are doing the work, but with the added assistance of gas struts which are matched perfectly to the user's weight.
Overall, the Lifestand LSA allows the user to stand with amazing ease and benefits.
Momentum Healthcare are exclusive distributors in Ireland for the Lifestand LSA and all other Lifestand wheelchairs.
Use Product Enquiry Tab to get in touch for further details.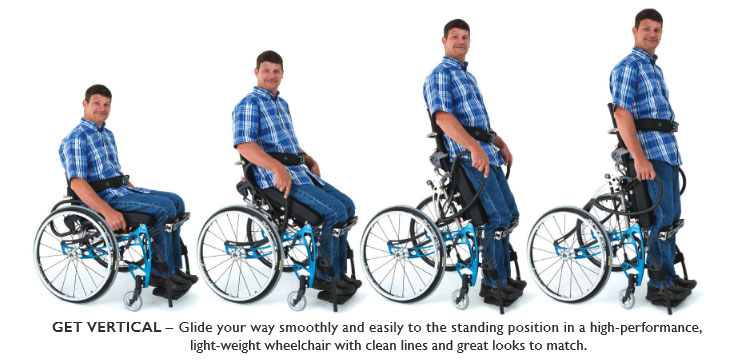 TOTAL WIDTH: 660 – 700 mm (3° camber) / 600 – 700 mm (0° camber)
TOTAL LENGTH (SEATED): 890 – 1010 mm
TOTAL LENGTH (STANDING): 930 – 1050 mm
SEAT HEIGHT: 510 mm
SEAT DEPTH: 430 – 530 mm
SEAT WIDTH: 360 / 380 / 400 / 420 / 440 / 460 mm
BACKREST HEIGHT: 320 – 460 mm
BACKREST ANGLE: Fully adjustable
TOTAL WEIGHT: 15 kg
MAXIMUM USER WEIGHT: 100 kg
For more information about this product or to receive a quote, please call us directly on ­056 771 23 94 or fill in the form below and we'll get back to you shortly.
---